Kids Martial Arts Classes
Kingston - Kids Martial Arts Classes and Lessons
Give your child an action-packed Kids Martial Art class at Adapt Choi Kwang Do and you're bound to witness an amazing transformation! From a new found passion for physical fitness, to steadfast discipline and unwavering self-confidence, our Kids Martial Arts classes have so much to offer.
At Adapt Choi Kwang Do, your child will have fun learning something new. Adapt Choi Kwang Do will teach essential life skills and build character, plus get in great physical, mental, and spiritual shape!
Give Your Child A Kick Start Towards Success With Kids Martial Arts!
With each Kids Martial Arts class at Adapt Choi Kwang Do, your child will develop poise while improving their strength, balance, coordination, and self-esteem. We provide a healthy, safe, fitness-focused class that enhances every student's positive attitude and academic performance.
We've put together a Martial Arts program for kids that teaches students lessons from Martial Arts and simple self-defence techniques that will give your child the skills and confidence to face down life's toughest encounters! As your child learns the Martial Arts, its many benefits will begin to take hold. Here are just a handful:
Learn Discipline
Gain Leadership Skills
Fun Classes
Social Skills
How To Deal With Bullying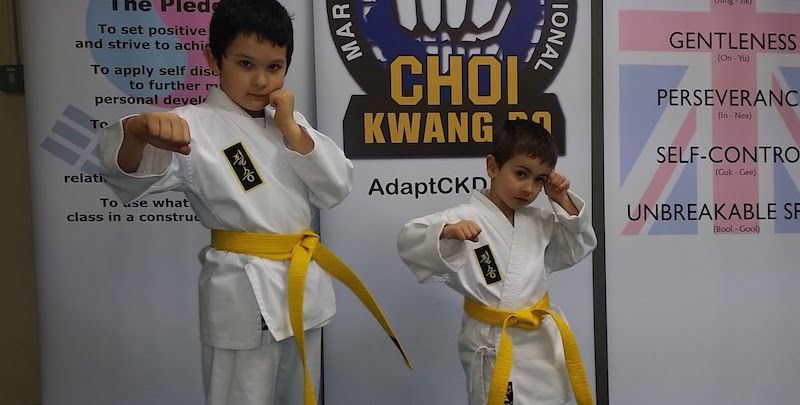 Sign Up Today For Our Amazing Kids Martial Arts Program!
Fill out the short form on the side of this page to get all the information you need to give your child all the tools they need to succeed in school and life!
Our Kids Martial Arts Classes
Tudor Drive Library Hall
Tiffin Girls School - Richmond Road
David Lloyd Kingston In The Rotunda Centre